Yes, we all thought the 2002 crop circle season was well and truly over now that it's the middle of September, but if you know where to look, there's still wheat standing!

Last weekend six circlemakers including John Lundberg, Rod Dickinson and Wil Russell teamed up with Channel 4 TV's 'Richard and Judy' show and managed to find what must have been one of the last standing wheat fields in the UK. On Saturday 14th September we were all flown up to Balerno near Edinburgh in Scotland to create our most complex demonstration formation to date, a 250ft cereal portrait of the king and queen of daytime TV Richard Madeley and Judy Finnigan. (Pictured below).




If you live in the UK it was difficult to avoid the splurge of media coverage about the formation. Newspapers that covered the formation included The Daily Mail, The Daily Star, The Daily Express, The Sunday People and two days of coverage in the Daily Record (see below). On TV, as well as being featured on the 'Richard and Judy' show the formation was also covered on Channel 4's 'RI:SE' breakfast show and Johnny Vaughan's chat show over on the BBC.


On Weds 18th Sep circlemaker Rod Dickinson went head to head with crop circle researcher Andy Thomas on the 'Richard and Judy' show and exclusive footage of the formation being created was shown.

There was so much secrecy surrounding the project that we didn't even see an aerial photo of the formation before it appeared in the media on Wed's 18th Sep due to a press embargo. The show's producer said that it was the most sucsesfull thing they've ever done!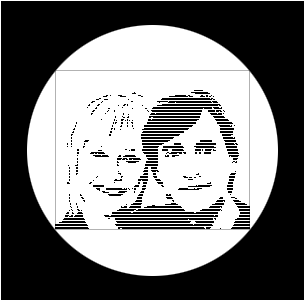 Pictured above is one of the diagrams we produced to enable us to create the formation.

Below are some photos taken during our trip to Scotland. They include shots of the creation of the formation, the filming and our kit on the baggage collection point at the airport. The only person not blurred out is James who produced the segment for the show. As you can see he was very hands on and even helped us flatten some crop!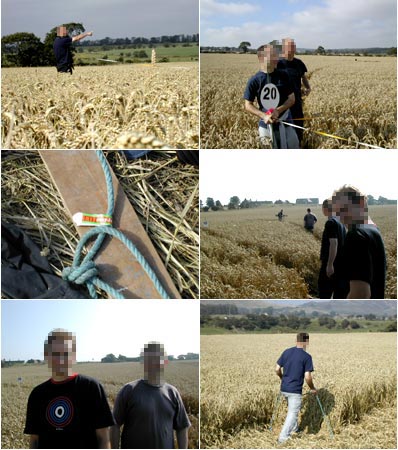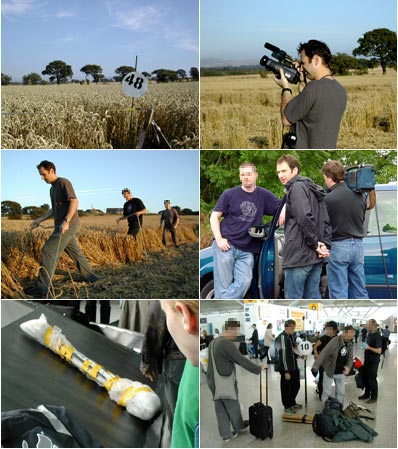 Photos: Richard and Judy, John Lundberg.